At the height of her mid-life meltdown Britney Spears gave us the near-perfect pop masterpiece album, Blackout. It was of course preceded by the fantastic Gimme More, one of Britney's best singles. A swirling cocktail of a throbby post Timbaland electro-R&B beat and the air of a popstar gone bad it never really had the visuals to back it up. Now we have Britney performing it as part of her current tour but back in 2007 all we had was that ropey VMA performance and the oft delayed and ultimately disappointing music video.
Despite a lengthy shoot and promises of a dark, funeral orientated concept fans were given a video of Britney whirling around a pole with two friends while some random guy and Britney in a blonde wig with friends watched on. It made little sense but was said to be the record label's attempts to cover over the cracks in Britney's life, despite reports of a scene involving a rapper, Britney facing off her blonde self and an extended funeral sequence.
Now a leaked cut of the original video has surfaced. It's a little more conceptual than the version we're used to but not much. There's footage of Britney walking the streets, sitting in bed and plenty of sloppy, out-of-it dancing to be had. It's a mess of badly cut footage, a clearly not all there popstar and little or no plot. But it's oddly hypnotic and an eerie reminder of how lost Britney looked at one point.
What else do you need to know? Well this gif about sums up how "lucid" Britney probably was for the whole thing. She seems to be picking lint out of the air here. Or talking to herself. Who knows?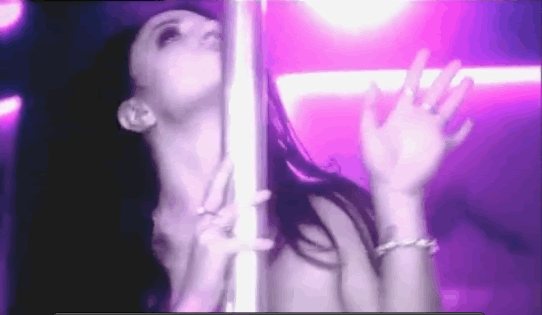 Other important visual "motifs" in this new cut:
1: Just-out-of-bed-ney
2: Funeral Chic Britney
3: Lots of extra "dance" footage of Brit & pals
4: Bald-patch-ney
There you have it, the Britney fan holy grail is now with us. It works on a car crash "laugh until you cry" level. But it's also a hypnotic slice of what could have been, were Britney really coherent enough to command this dark (i.e slutty) and challenging (i.e. slutty) a vision throughout the whole Blackout campaign.
And again, at least there's this to enjoy: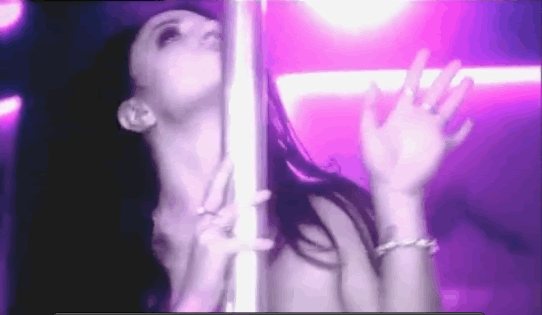 Watch it in full here:
Magical.